Las Vegas Airport - McCarran Airport (LAS)
Use this website to quickly find the most important information about Las Vegas - McCarran International Airport: Flights (Departures, Arrivals), Parking, Car Rentals, Hotels near the airport and other information about Las Vegas airport. Plan your travel to McCarran Airport with the information provided in this site.
Las Vegas Airport (IATA: LAS, ICAO: KLAS), officially known as McCarran International Airport, or simply McCarran, is the main commercial airport for Las Vegas, Nevada, United States. The airport is located 5 miles (8 km) south of downtown Las Vegas, in Clark County.
Los Angeles airport is a focus city for Allegiant Air, Southwest Airlines and Spirit Airlines. It is the 26th busiest airport worldwide by passenger traffic and the 8th busiest by aircraft movements.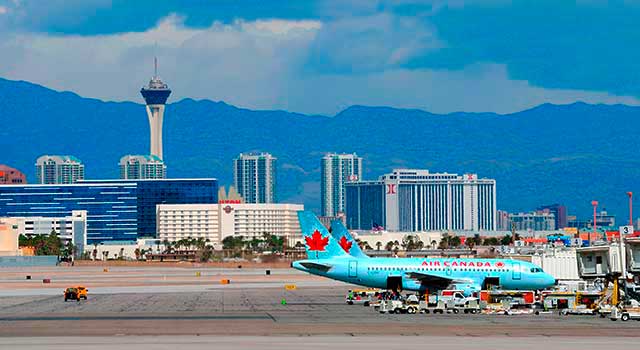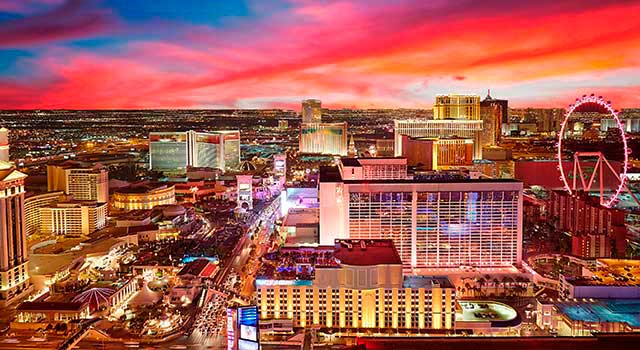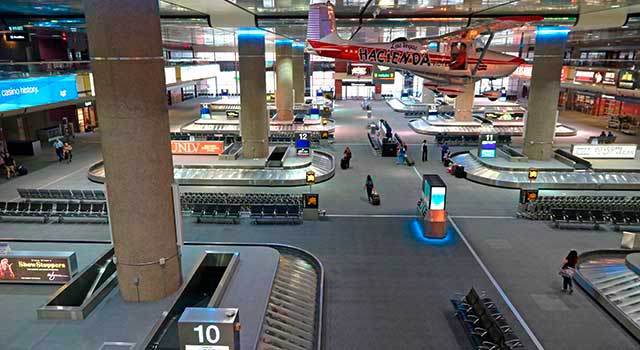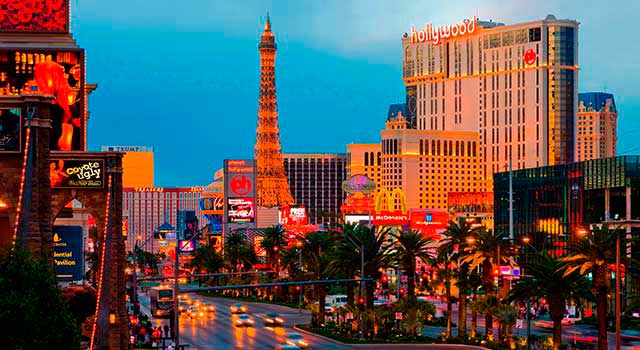 The airport has nonstop flights to destinations in North America, Europe and Asia. It has four runways and operate with more than 30 airlines.
In 2015 the airport handled 45,389,074 million passengers, a number that represents a 5.8% increase over the previous year.
Terminals
Two passenger terminals:
- Terminal 1: is composed of four concourses, namely the A, B, C, and D Gates.
- Terminal 3: contains the E Gates.
A people mover system is in place between the pre-security area of Terminal 1 and the C and D Gates, as well as between the D Gates and Terminal 3. East of the passenger terminals is the Marnell Air Cargo Center, and on the west side of the airports are facilities for fixed-base operators and helicopter companies.
Inter-terminal shuttle
Inter-terminal Shuttle connects both terminals 1 and 3. Shuttles run every 15 minutes approximately and depart from Level 0 of each terminal.
Facilities and Services
At LAS the airport there are different services and facilities as:
- ATM's, Currency Exchange, Banks
- Kids Play Area
- Pay E-mail and Pay Phones
- Postal Services
- Pet Relief Area
- Recharge Zone
- Assistance for passengers with special needs
- Restaurants and bars
- Shops
Rental Car
To rent a car is one of the best options of transportation in Las Vegas. Check the different options here!
Transport
- Bus: It runs from Terminal 1 and Terminal 3.
Terminal 1: Route 108 and 109 (Level 0). RTC Transit also provides service from various parts of the Las Vegas Valley.
Terminal 3: Westcliff Airport Express (WAX) and Centennial Express (CX) operates at the airport (Level 2, Departures).
- Shuttles: several shuttles connect to/from hotels and resorts. At T1, shuttles are located on the west side of Baggage Claim (outside exits 7-13). At T3, shuttles are located on Level 0.
- Inter-City Shuttles: different inter-city shuttles connect the airport with the surroundings of Las Vegas.
- Taxis: Different companies provide taxicab service.
Visit the transportation online page if do you want to get more information.
Las Vegas airport in numbers
- 4 runways
- Two passenger terminals: T1 and T3
- It is located 5 miles (8 km) south of downtown Las Vegas
- It is the 26th busiest airport in the world by passenger traffic
- It is the 8th busiest by aircraft movements
- In 2015 handled over 45 million passengers
Contact information
Address: 5757 Wayne Newton Blvd, Las Vegas, NV 89119, United States
Phone: +1 702-261-5211
Lost and Found
Phone: (702) 261-5134.
Open hours: 7.30 am to 6.00 pm PST Sunday-Friday, except major holidays.